More speakers will be announced shortly, but here's a taste.
Sarah Jane Pell
Dr. Sarah Jane Pell is an Australian artist engaged in art and science research intersecting the performing arts, human movement, and underwater diving, human spaceflight and exploration and extreme habitat technologies. Sarah holds a PhD in Visual Arts and a Masters in Human Movement and she has exhibited and published widely. An Alumna of the International Space University and Singularity University, NASA Ames, Sarah regularly contributes to futurist think-tanks and start-up initiatives. Current appointments include: the Maritime Union of Australia Representative to the Standards Australia Committee SF-017 Occupational Diving; Co-Chair of the European Space Agency Topical Team Arts & Science responsible for developing the ESA Arts Initiative; Visiting Researcher of RMIT University, developing underwater play interactions with the Exertion Games Lab, and Associate Researcher to the ARC Research Cluster AEGIS Art, Environment, Geography and the Interpretation of Science. Dr. Pell is currently investigating long-duration human-underwater interactions to propose novel human-factors feedback and bio-tech-aquatic technologies for deep-ocean exploration and space analogue applications. She is an ADAS Occupational Diver with over 500 hours commercial dives logged – spent mostly in zero visibility imagining she was on an artist-in-space residency. Dr. Pell is official crew of the Atlantica Expeditions Undersea Habitat Mission and the only Australian awarded a TED Fellow.
Mick Alexander
Mick Alexander is a pasture and grazing specialist who works within the Queensland and New South Wales agricultural industry. He is passionate about grazing and farming best practices, and will be speaking about how healthy soil relates to healthy humans – how farmers and agriculture are a solution for the future.
Harvee Pene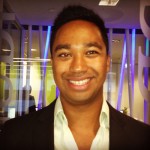 When local QLD Mastermind group founder Harvee "HP" Pene found himself (in true Gen Y style) too impatient and lazy to work hard and wait for the future he wanted, he made a fascinating discovery for how to Be, Do and Have anything you want!
Trudy Graham

Local educator Trudy Graham believes that kids can do amazing things – if you keep it real.
Trudy will be sharing from her experiences as a principal and cheerleader for the younger generation by way of the Fingerprint Projects.
Professor Ian Atkinson
Professor Atkinson is a Tropical Leader and Director of the eResearch Centre at James Cook University. He spends his time working with researchers to harness the power of the ever-changing technologies available to them, and will be discussing how Regional Queensland can harness the digital frontier.
Robert Schwarten
Robert Schwarten is a well-known local personality, having represented the region as Member for Rockhampton for nearly 17 years. While he has retired from politics, he is by no means any less interested in the subject, and will be sharing with TEDxRockhampton where modern democratic policies are headed.
Loretta George
Loretta is a local psychologist, working for Queensland Health and running her own private practice. She describes herself as an advocate born in Darumbal country from Australian Lebanese ancestors. Loretta will be entertaining us with her talk entitled 'Guess Who's Coming to Dinner?'
Ken Leslie
Ken is a Rockhampton-based artist and primary school teacher. He is passionate about education and believes it creates intelligent and responsible citizens. Ken's work as an artist has influenced his talk, and he will be asking TEDxRockhampton if we should fill our schools with art.